Pictured above: A book about the life of Jeremiah G. Hamilton aka "Prince of Darkness" , available on Amazon. He was born in 1806 in Haiti and he is known as the man without a face, not to be confused with Texas legislature Jeremiah J, Hamilton.  There have not been alot of official photos of him and he has been lost in the 1800's history as being the 1st African-American millionaire on Wall Street.  
Pictured above: The trial of Jeremiah Hamilton.  He was convicted of Insurance fraud that totaled 50,000.
Pictured above: White Wall Street in the 1800's when Jeremiah G. Hamilton had to find ways to make money as an African-American.
Pictured above: Jeremiah and wife Eliza Jane Morris who had 9 children and were married 40 years despite the fact that he was African-American and she was a white women.  They lived at 68 street New York, New York.
Pictured above: Eliza Jane Morris Hamilton (1822-1904) and Jeremiah G. Hamilton (1806-May 19, 1975) buried in Greenwood Cemetery in Brooklyn, New York.
Pictured above: Don Cheadle -well-known African-American actor in Hollywood for decades in movies and television, will be producing and starring as  Jeremiah G. Hamilton in the Untold Story of Wall Street's first African-American Millionaire called "Prince of Darkness".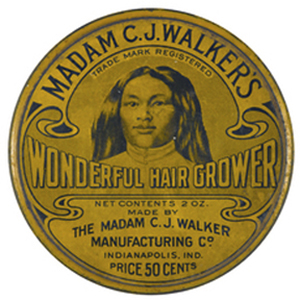 "I got my start giving myself a start!" Madam C.J. Walker
Pictured above: Sarah Breedlove aka Madam C.J. Walker (12/23/1867-5/25/1919) was the first female millionaire in the 1900's to produce a hair care and cosmetics line for women.  She married 3 times and only had one daughter A'Lelia Walker who is now the president of the company Madam C.J. Walker Manufacturing Company after her mother's death from kidney failure and hypertension and is buried in Woodbury Cemetery in Bronx, New York.
Stayed tuned for more Black history tomorrow….Subscribe NOW!!